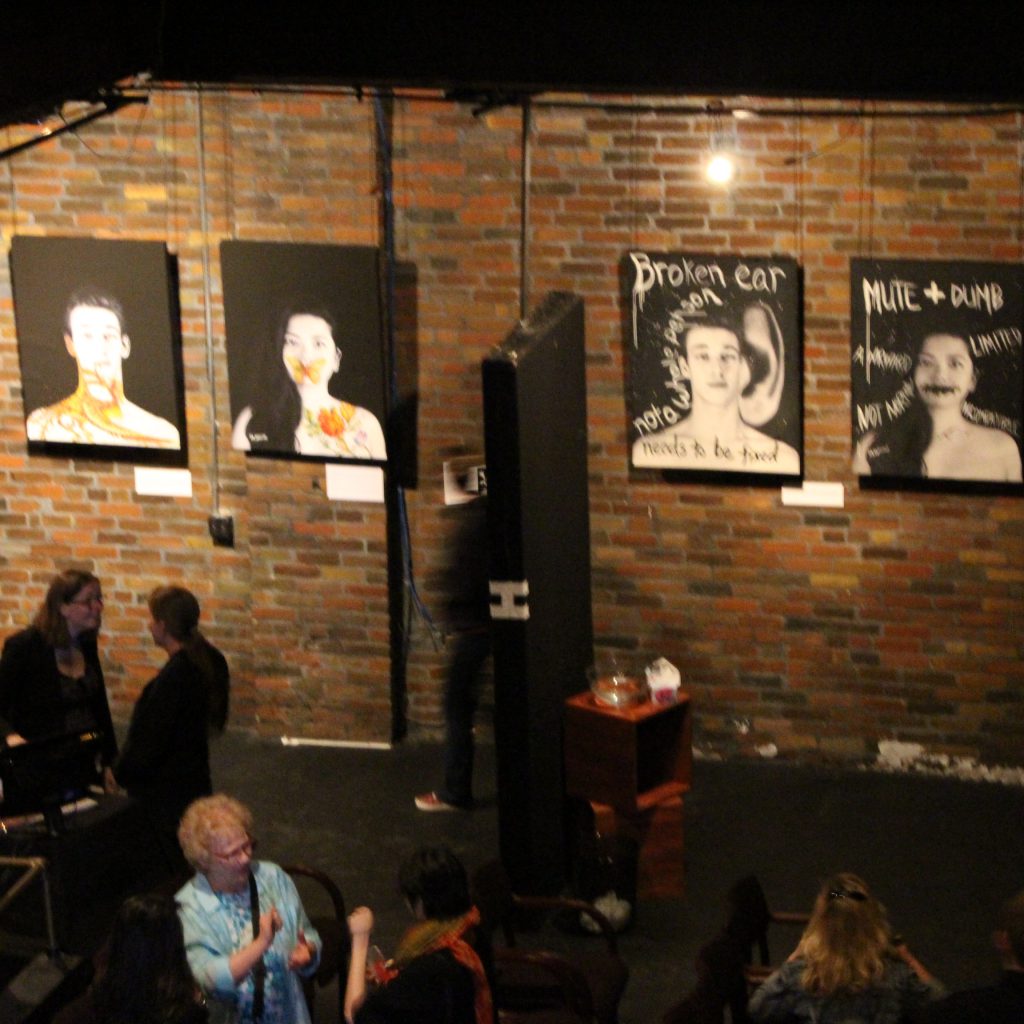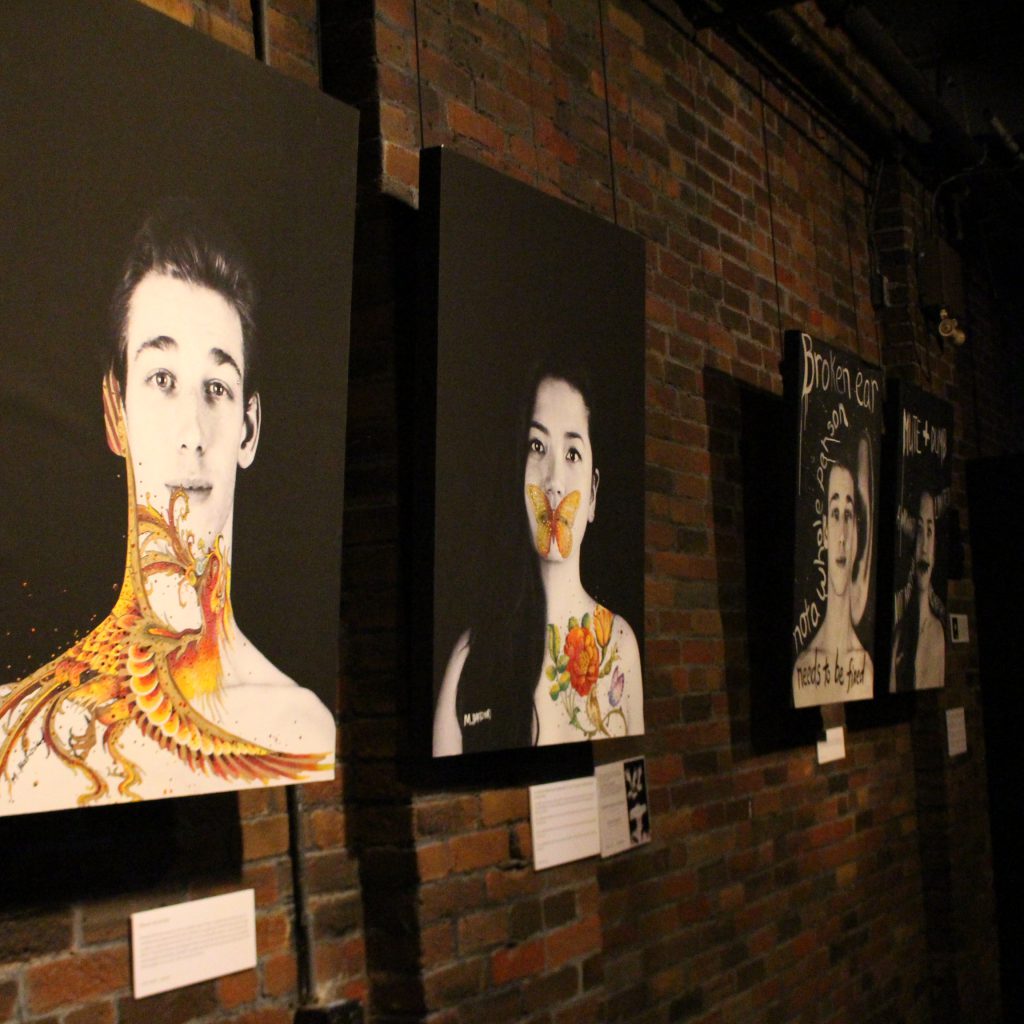 Art Installation
From April 28th to May 11th, this interactive multi-media installation, "Eyes Must be Washed" by Deaf artist Maryam Hafizirad, was exhibited inside the theatre, and could be experienced before and after each show. This is a beautiful example of creating a natural moment for audiences to learn about De'VIA while attending the theatre.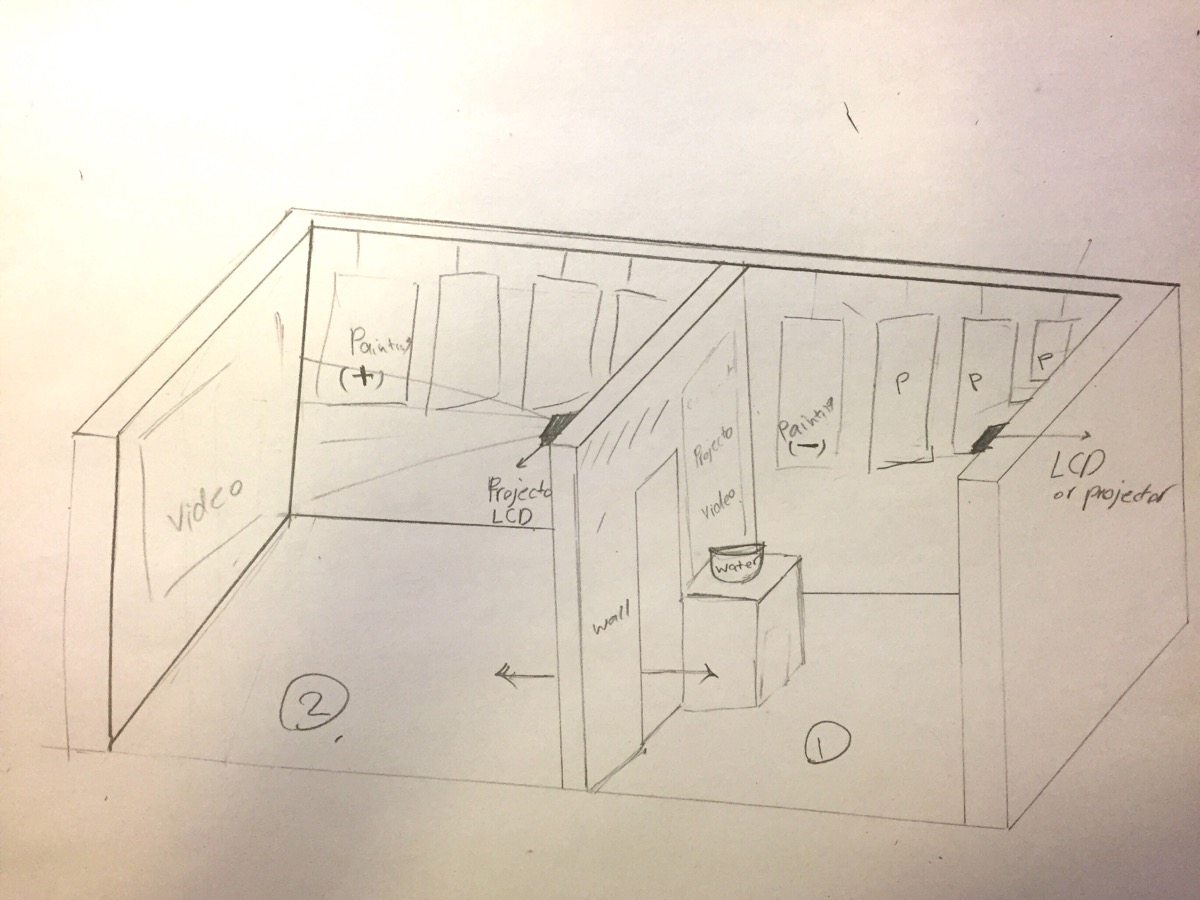 De'VIA is Deaf View Image Art created when artists explore Deaf experience on a personal cultural or physical level, using formal art elements. De'VIA elements include:
Intense and contrasting colours
Contrasting textures and values that highlight Deaf experience.
Emphasis on eyes, mouths, ears and hands.
Motifs and metaphors, insights and perspectives that reflect Deaf experience.[1]
This sketch shows the plan to install this art exhibit. It was set up so that patrons would see the exhibit as they entered the house and would travel through it, interacting with it as they continued upstairs for refreshments and conversation pre and post-performance.
It was important to coordinate load in and load out with rehearsals times and to ensure that TPM production manager was present to assist with the installation and strike of the exhibit.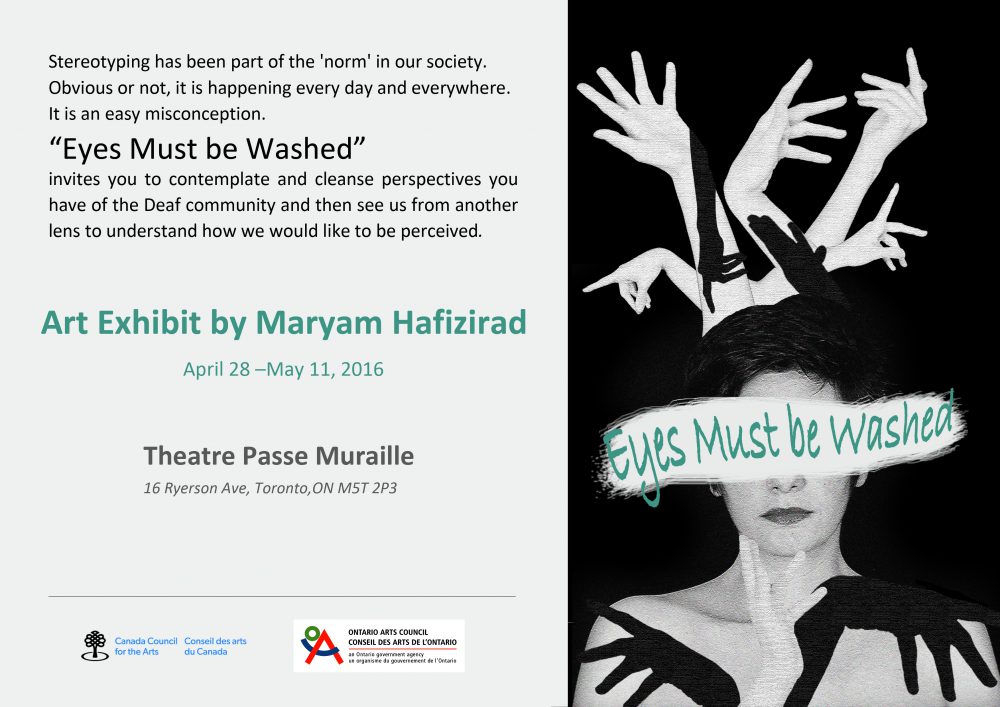 A promotional postcard on the Cahoots Theatre website, informed patrons to look for the art installation "Eyes Must Be Washed" by Maryam Hafizirad when they came to the performance.
Interactive Posters
In front of house we posted four interactive posters (two in English and two in French) of Deaf Performer and Mime Artist, Chris Welsh.[2] These posters provided a unique opportunity for patrons to learn some visual gestural communication techniques from renowned Deaf mime performer, Chris Welsh (download poster 1 

/ poster 2 

). We discovered that front of house was not the best place for this as poster boards are easily overlooked when the space is filled with patrons. On reflection, the ideal place would be beside bathroom mirrors where patrons could look at it and even imitate it in the mirror while they wash hands!
---
[1] Canadian Cultural Society of the Deaf. (In press). Deaf View Image Art: Canadian Exhibits, Deaf Arts Handbook Series, Volume 1. http://www.deafculturecentre.ca/Public/Default.aspx?I=613&n=Deaf+Arts+Series
[2] Reprinted with permission from DEAF CULTURE CENTRE, Showtime: A Legacy of Deaf Theatre in Canada, Special Exhibit, 2014/2015.